COVID-19 didn't invent the ed tech space, but it has accelerated growth and IT directors are looking for ways to save money during the education buying season. The global education technology market size is expected to grow at a compound annual growth rate (CAGR) of 18.1% from 2020 to 2027(1).
What IT Teams Should Know During Buying Seasons
Educators around the U.S. and elsewhere want teachers and students to shift between online and in-person learning easily. To prepare, IT directors and staff can do several things:
To provide some expert insights on this, we spoke with Tracy Schoene, the Director of Technology at Harford Day School in Maryland. Tracy shared some of the challenges IT directors are currently facing, the solutions she's uncovered and things to keep in mind to save money this education buying season.
Question: Describe what the typical education buying season looks like?
Tracy: Typically, I start making large purchases in July for the following school year. We also have a few all-year-round purchases depending on the need. However, I like having a buying period that usually falls around the end of the school year into the summer.
Question: What is the best way to purchase educational technology to benefit from it?
Tracy: It's important to keep your students and faculty in mind. Ed tech should be there to support, not drive instruction. It is not about having the latest and greatest technology. We, as IT support, need to find tools that teachers can implement easily, with minimal training, and that will be able to support what they are doing every day in the classroom. The tools need to help prepare students for the world they will be entering after high school and beyond, not the world they are in now.
Question: How often do you recommend IT directors buy ed tech products?
Tracy: It varies by school or district. Previously, schools would have a budget time to buy technology – typically in the summer – to prepare for the following year. We currently purchase technology throughout the year and as the needs arise. IT directors should consider ongoing purchases for products that will help support learning and consistent refresh cycles for Chromebooks. We need to remain flexible.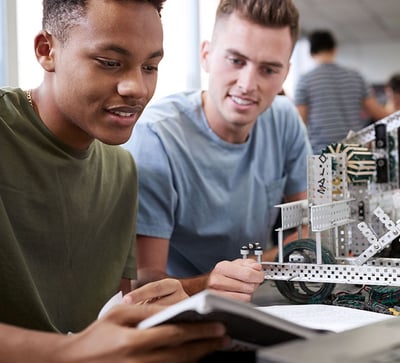 Question: What products are currently in most demand?
Tracy: School districts are looking for products to enhance or streamline what they already have or are doing. STEM-related products and classroom teaching tools are hot items, including 3D printers, coding devices, document cameras, amplification speakers and headphones. AI and gamification technology are also trending. International Journal of Human-Computer Studies says that challenge-based gamification in e-learning can improve educational outcomes by as much as 89.45%(2).
Question: What challenges are IT directors facing in purchasing technology?
Tracy: IT directors face challenges, especially around budgeting for hardware and software, as well as professional development and maintenance for the devices. Other challenges include the time to train the teachers, limited support staff and equity to have all resources easily accessible to students and teachers no matter where they are within the school district.
Question: How can IT directors address these challenges?
Tracy: Schools can take advantage of the many grants available. IT directors should be creative in using funds by pulling them from different budget lines or funding sources. I recommend being creative with the money they already have and reaching out for more funding. Teachers are the best resource we have. Teachers training other teachers to adopt the new technology works really well.
Question: What solutions and services do you expect from technology partners?
Tracy: We're looking for devices that enhance what we are already doing or what we already have in place and want to know if there is a better solution. I do not see hybrid learning going away at this point. We need products to bridge that gap and ensure that the students at home can access the same instruction and everything that the students in the classroom receive. I want my technology partners to get to know our school and our population. I do not just want to hear about what other schools are buying and the next best device. I want them to:
Build on the technology the school has in place to enhance our programs.
Know and support the needs of students and teachers – both in and out of school.
Know what's best in the industry and provide the best pricing for the most effective tools.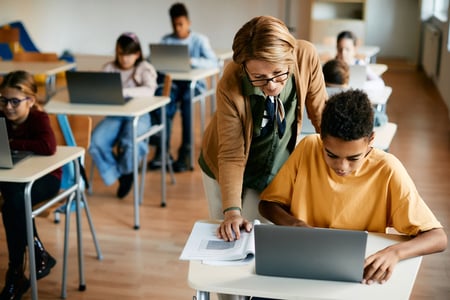 Question: What should IT directors keep in mind when buying education technology to save money?
Tracy: Here are the essentials to keep in mind.
Consider the goals to be achieved when buying the technology and how it will improve learning.
Consider the inventory of existing technology and strive to purchase only what is needed.
The technology should be equitable and available to all students and teachers who need it, regardless of location.
The technology should be cost-effective and include professional development and asset management.
Consider the sustainability plan regarding the replacement and integration of the technology.
Educators across North America have partnered with Bluum for their ed tech needs. To learn more about their challenges, how they overcame them and found success, browse our case studies.
Sources
Grand View Research, April 2021. Education Technology Market Size, Share & Trends Analysis Report, 2021 – 2028. [Report]
International Journal of Human-Computer Studies, 14 June 2020. The effect of challenge-based gamification on learning report, December 2020. [Article]