Though students and educators have returned to the classroom after months of remote and hybrid learning, air quality remains a critical issue for districts. In the face of new COVID-19 variants, it's crucial for administrators to consider how to keep students and staff safe.
The CDC offers guidelines for schools to improve building ventilation to prevent the spread of viruses. The recommendations include improving central air filtration by ensuring filters are appropriately sized and within their recommended service life(1) and supplementing existing ventilation systems with portable air cleaners.
Using portable air filtration systems in combination with universal masking can reduce exposure to COVID-19 aerosols by up to 90%.(2) Air filters offer a much more affordable option versus the cost of overhauling a school's HVAC system.

Contaminated Air Can Lead To Learning Issues
Even before the pandemic, poor air quality has been shown to negatively affect learning, with lowered test scores and increased behavioral incidents and absences in students exposed to pollutants.(3)
In response to concerns about air quality, the American Rescue Plan provides two years of emergency funding for schools to improve indoor air and address other environmental health hazards. In a recent report, the Johns Hopkins Center for Health Security at the Bloomberg School of Public Health urged schools to invest in solutions to prevent the spread of COVID-19 and other respiratory diseases and improve student learning.(4)
Their recommendations include:
Purchase HEPA air filtration units for classrooms and common areas.

Use only proven technologies: appropriate ventilation, HEPA filtration and ultraviolet germicidal irradiation.



When it comes to air filters, size matters – particle size, that is. Minimum Efficiency Reporting Values (MERVs) dictate efficiency.(5) A higher number indicates the filter can capture smaller particles of bacteria, dust, mold, pollen and viruses.
High-Efficiency Particulate Air (HEPA) filters are widely considered the gold standard in filtration, particularly with the coronavirus, which travels in smaller-sized particles than many other airborne contaminants. HEPA filters must be at least 99.97 percent efficient at capturing particles 0.3 µm in size and have even higher efficiency for smaller and larger particles.
Some school ventilation systems aren't equipped to handle HEPA filters, but portable filtration options are available and recommended by ASHRAE.(6) New York City School District, Chicago Public Schools and hundreds of other districts across North America invested in portable air purifiers before reopening in the fall of 2021.(7)
Choosing the Right Air Purifier
As many schools rushed to purchase air purifiers for the 2021-2022 school year, not all investments were made wisely. The city of New York spent $58 million to install two purifiers in every classroom. Still, according to a report from WNYC and Gothamist, the schools that rely on open windows and portable air purifiers have had 23% more COVID cases in students than those with more robust ventilation systems.
In New Jersey, Newark Public Schools bought thousands of devices from a company that uses UV energy in its purifiers, releasing ozone into classrooms. Research shows ozone can worsen asthma and harm developing lungs.
While there is minimal federal oversight or enforcement for safe air purifying technology, the CDC recommends using time-tested portable HEPA air filters to improve indoor air quality rather than untested filters that may cause more harm than good.
While quality air purification systems can seem costly, funding options are available. The Elementary and Secondary School Emergency Relief (ESSER) Fund and Emergency Assistance to Non-Public Schools (EANS) relief package provide financial support to educational institutions in the wake of the pandemic, and those funds can be used to invest in health and wellness improvements.(8)
An Affordable Solution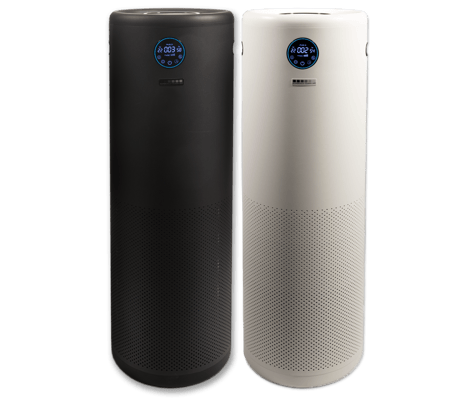 One of the most popular solutions that meets ASHRAE standards and performs well in classroom settings is the Surgically Clean Air JADE™2.0 Purification System. It uses a HEPA-Rx filter, activated carbon filter and germicidal UV-C+ to capture and destroy viruses, bacteria and other harmful particles in the air. This combination of technologies makes the JADE more effective at removing pollutants than a HEPA filter alone.
The JADE 2.0 utilizes trusted technology to remove 99.998% of indoor air contaminants. Its multiple stages of purification – capturing, absorbing and destroying pollutants and re-energizing the air – helps protect students and staff.
While popular in dental and medical offices, the JADE 2.0 is gaining traction in K-12 schools and college campuses. David MacAleese, Chief Revenue Officer for Surgically Clean Air, says it comes down to one thing – the JADE 2.0 is whisper quiet. "Other purification systems are so loud that teachers can't talk over them without turning the speed down, which means there are fewer air changes," he says. The JADE 2.0's design allows for a more efficient airflow while keeping the sound volume as quiet as a standard household dishwasher. This means learning won't be interrupted, and students and teachers can breathe easier.

Create Safe Learning Environments With Solutions For Cleaner Air
The American Rescue Plan was created in part to support the safe reopening of schools. While keeping schools closed removes a source of COVID-19 risk for students, teachers and staff, virtual learning isn't the best option for all students. (9) There are many community-wide benefits to in-person learning, such as:
Psychological well-being through reduced isolation

Social skill-building opportunities

Access to nutritional and welfare services

Improved learning quality for students with special needs

Allows parents to return to work and avoid child care costs
At the start of the 2022-23 school year, the White House laid out recommendations to help schools keep classrooms open while preventing COVID outbreaks. Guidelines include using American Rescue Plan money and other federal funding to make indoor air quality improvements, as well as partnerships with skilled technicians from HVAC professional associations to guide schools in implementing plans to improve ventilation.
Investing in portable air filtration systems is one way for schools to reopen safely, improve indoor air quality and ensure students can learn to their full potential.
Learn More About Protecting Students and Staff with High-Quality Air Purification Solutions


Discover the Surgically Clean Air JADE™ 2.0
Using Federal Funds to Invest in Health and Wellness Improvements





Sources