Morgan County School District
Morgan County, Alabama
Morgan County School District is a public school district located outside of Huntsville, AL. It has 7,503 students in grades PK and K-12 across 18 schools and one alternative school.
Making the Transition to the Google Workspace for Education Couldn't Have Been Easier for Morgan County Educators
As in the rest of life, change is the one constant in education technology. Like starting a new diet or habit, resistance can be immense to systemic changes, even though the benefits are often tremendous.
But that wasn't the case with Morgan County School District outside Huntsville, Alabama. A somewhat rural district outside Huntsville, Alabama, Morgan County made the leap and transitioned to the Google Workspace for Education years ago. While one may not typically marry a tech behemoth like Google with a medium-sized public school district, they probably should.
Huntsville is renowned for technology in the defense industry, manufacturing massive products in the technology industry such as rockets and aeronautics. Meanwhile, the graduates of Morgan County are often the blue-collar workers who put in a shift at the plants, repair the wings or paint the rockets.
Morgan County overcame the resistance to change and has subsequently utilized the Google Workspace for Education to overhaul its district and, in the process, created a blueprint for districts throughout North America to emulate. First using Google's complimentary platforms, Morgan County has since incorporated paid aspects of Google's Workspace for Education but is still experiencing incredible savings within its overall IT budget.
The impetus for the change came a few years ago when Morgan County was looking for a comprehensive set of cost-saving IT tools that were more secure and accessible to all students. Now, years after the move to the Google Workspace for Education, which includes Gmail, Contacts, Calendar, Meet, Chat Docs, Drive, Slides, Forms, Sheets and Vault, Morgan County counts the decision to transition as one of its best.
Check out why the district's tech director, administrators and teachers from elementary to high school have relished the move to Google:
1. Prepared Workforce: For Morgan County Director of Information Technology Lee Willard, moving to the Google platform was all about practicality. "District leadership has to understand that in today's workforce, students will be working from home, in different cities from where they live and will have to compete globally," Willis said. "When you talk about budgeting technology, it's a non-issue. It's like having teachers.
"Your students have to come out of the classroom ready to compete. If you say no to technology or no to one-to-one, you're just handicapping your students. Taxpayers have an expectation, and they should. When students leave our schools, they must be able to compete in the global world of work and in the college market. I want students to be able to choose, whether it's a vocational or collegiate path."
2. Cloud Security: "We use a lot of data," Willis said, "and Google is FERPA and HIPPA compliant, so a lot of information is stored in the Google Cloud of documents and emails teachers share. That is critical to keeping that student information safe and was a huge indicator that they knew what they were doing. It was a positive for us that we wouldn't have to bear all of those responsibilities on ourselves." If the district were to experience a ransomware attack, Google Drive would protect all the stored documents, and IT would just isolate the infected computers. In the past, IT would've taken several months just to reimage all their computers, but now a teacher would grab a new Chromebook and begin teaching again in seconds.
3. Unlimited Storage: Since teachers save numerous pictures and documents, unlimited storage for educators through Google is a game-changer for saving time and money. "You can't afford to not put your money in that," Willis said. "That's why the Google Workspace for Education and partnering with Bluum were tremendous in making us more secure and providing extra protection."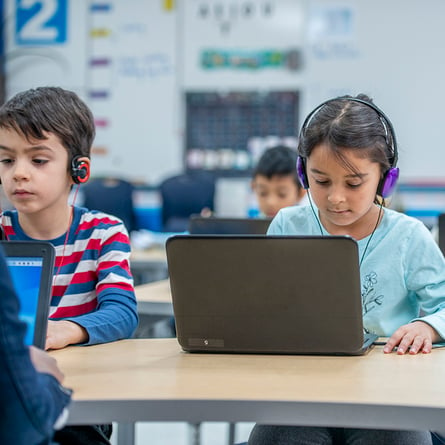 4. Conferences: One of the advantages of Google Workspace for Education during the pandemic was the ability to hold virtual conferences and meetings. After launching a new student information system, the IT team held virtual meetings with enrollment clerks, attendance personnel and administrative assistants using Google Meet to receive training and guidance. There were also office hours available to jump on to Google Meet and receive answers to questions without ever leaving their building.
5. Complete Toolbox: Whether it's Google Docs, Meet, Forms, Slides or Sheets, there is always a solution for an educational need. "You've got to get this," West Morgan Middle School Principal Matt Adams said. "There are so many pieces. It's almost like there's always a tool in the toolbox as far as Google is concerned. I can meet whatever need I have at that moment. There's always something there to help interact with parents, touch base with students, push something out to my teachers and it never goes away."
6. Cost-Savings: "Whether saving on paper or professional development, Google makes a difference," Adams said. Google's platform removes the need to print a mountain of copies while making information easy to share and access, schedule a meeting, pay for a substitute teacher and engage in a digital discussion without spending time frontloading information.
7. Sharing Large Files: For the students working in the media center, sending and receiving large video files via email is nearly impossible. The Google platform alleviates that issue by dropping files into Drive, making them easily shareable and compatible whether a student is on Mac or Windows. "It's what we need in the world of education," Brewer High School Arts and Audio Visual Instructor April Childress said. "We needed something streamlined, universal and everyone can use."
8. User-Friendly: Administrators, teachers and students have found the Google Workspace for Education easy to adopt and enjoy the assortment of tools it possesses throughout the day.
"As an administrator, I grew up in the Microsoft world, but I definitely think the Google Suite is more user-friendly," Priceville Junior High School Principal Ashley McCulloch said. "I'm much savvier with Google Sheets than I am at Excel."
A first-grade teacher at Sparkman School, Ashley Camp became Google certified in a day. After completing her certification, she returned to the classroom feeling immensely prepared to utilize the entirety of the Google platform, sharing tips and tricks with her colleagues. She professed, "Google has been the easiest thing ever to adopt."
9. Streamlined: Administrators credit the Google Workspace for Education for streamlining their operations to eliminate lost files, safely store sensitive information in shared drives and receive access to those files at night or over the weekend if needed.
10. Greater Equity: "Technology has become a great equalizer," Sparkman School Elementary Principal Layne Dillard said. "It allows us to try to close that achievement gap because if we have haves and have-nots, they'll always struggle because they all don't have access to the same things. It helps us level the playing field."
As the principal of a former Blue Ribbon school, Dillard appreciates the effect switching to Google has had on its culture.
"Google turned us into a community of learners and teachers where we all learn together on one collaborative and organized platform," Dillard said. "I think it's changed our learning culture more than anything."
To move your district to Google Workspace for Education for free, head to Bluum's partner webpage with Google now!