Morgan County School District
Morgan County, Alabama
Morgan County School District is a public school district located outside of Huntsville, AL. It has 7,503 students in grades PK and K-12 across 18 schools and one alternative school.
Morgan County Educators List the Reasons the Transition to the Google Workspace for Education Has Paid Dividends
Switching technology platforms can often seem overwhelming to educators. With everything already being asked of educators, one can understand why some would rather stick with "the devil they know" instead of adding one more systemic change to their plates.
Located just outside Huntsville, Alabama, Morgan County School District faced such a dilemma. But instead of fearing technological change, district leadership embraced it, benefiting the district from top to bottom.
Years after adopting the Google Workspace for Education, Bluum traveled to Alabama to hear from the technology director, administrators and teachers from all grades in the district what was so successful about the transition.
Here's what they had to say:
1. Workforce Ready: For Sparkman School Elementary Principal Layne Dillard, it's about equipping students for the future.
"One of the things I'm really passionate about is that our children are ready to come out of school ready for a career," Dillard said. "This is especially important in working with children in poverty."
At Dillard's elementary school, the staff has enacted a schoolwide program/game called Simulated Workforce. The students wear badges and clock in every morning, recording timestamps that provide them with a "virtual paycheck" they can spend in the school's arcade at the end of the week. The program runs on Google Drive and Sheets, emphasizing soft skills such as punctuality and accountability in preparation for their future careers.
"We have seen a huge difference in attendance and behavior because the students will lose time and money in the arcade if they forget things and don't complete their assignments," Dillard said. "It would be very difficult to manage this without the technology we have through Google."
2. Formative Assessments: In order to assess the comprehension of their students with the curriculum, formative assessment is an instrumental tool used in the classroom and by administrators. Instead of using hand statistics to find biased questions or questions that students collectively missed on a quiz or test, Google Forms identifies those problem questions instantaneously.
"I can look at the difference between students in different categories and know where a student's gap is," West Morgan Middle School STEM teacher Kathy Stults said. "I can feed statistics into Sheets to receive the bar graphs and charts displaying the number of students who struggled with certain questions."
From a principal's perspective, by using Google Forms, Sheets and other tools, Dillard stated that her students were more prepared for the statewide assessment after returning to the classroom from the pandemic. The ability to assess students in a remote or hybrid environment allowed teachers to focus on areas where they were struggling, bringing them up to speed more quickly.
"Our teachers were much more comfortable with the Google platform and were able to raise those expectations on the students," Dillard said. "We recently received our grade 3 scores in reading and are as good or better as those systems around us. We really owe a lot of that to our teachers getting involved with Google and technology during the pandemic."
3. Ease-of-Use: West Morgan Middle School Principal Matt Adams noted that the key to adopting the Google Workspace for Education was the moment when teachers saw the proof in the pudding.
"When they finally understand the power available to them with technology, all the things that they can do and set up, they naturally gravitate toward things that make their lives easier," Adams said. "Administrators can set up trainings and immediately see application benefits within their classrooms. When you take a suite of products, a one-stop- shop with one sign-in gives that allows you to access all of these programs, teachers will find ways to adapt them into their classrooms and find ways to use technology I didn't know it was possible."
4. Adaptable: Since the Google Workspace for Education is identical on a PC or a Mac, teachers enjoy its adaptability across various student devices and operating systems.
"Google works on both platforms, so it's super easy," Adams said. "Also, the Schoology plug-in puts an assignment in a folder as a Google doc once created so the students can interact with it, the teacher can grade it, a copy is automatically made and the teacher never has to collect a piece of paper."
5. Time-Saver: Before moving to Google, students would go home with loads of papers, get stuck in their homework, abandon it and tell the teacher the next day they lost their homework. Now teachers can see their progress even if they only complete 25 percent of the work, in addition to viewing where students lack or lose comprehension.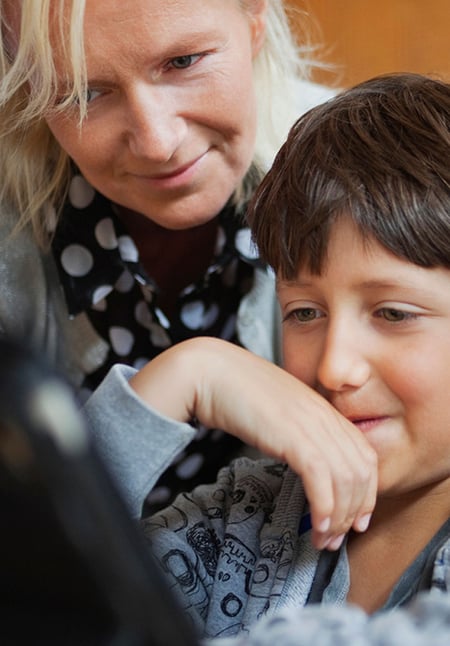 The Google Workspace for Education also assists with research projects, so students don't need to line up to visit the library, sift through the card catalog, find their necessary books, make a copy of the vital pages and highlight the pertinent information. Now by just using keywords with their Chromebooks, students avoid wasting half of the class finding info by using Docs, Forms and Slides instead of an encyclopedia.
"It makes a world of difference as a time-saver across the board," Adams said.
6. Improves Teaching and Learning: Through the history revisions in Google Docs, a teacher can see if the students followed instructions and gain insight into their thought processes when solving problems.
"It gives me a more direct connection on where their minds are going and what they're trying to convey," Stults said. "I can assess their higher-level thinking skills because they must give me a reason and why they came to their conclusions.
"Middle school students often struggle with this aspect of their development, so by encouraging them to provide evidence for their claims, they can improve in this area," Stults said. "Teachers can read through papers, get where the students came up with their ideas and see where they need more training."
7. Showcasing Student Work: Through Google Sights, students can gain a sense of pride by showcasing their work.
"Like hanging it on a refrigerator, students look forward to the gratification they feel when they make the book themselves, illustrate it, color it and add a cover to it," Stults said. "When you see the books on Google Sights, it looks like Barnes & Nobles. Anyone in the 7th grade can see their books, giving them a sense of belonging."
8. Better Statistical Analysis: "The Google platform allows us to be a reflective practitioner and instantly grade a student's work," Stults said. "I export their exams into Google Sheets and don't have to calculate statistics by hand to see where my anomalies are. I plug in a set of demographics to see who didn't understand it and go back and make instructional changes."
9. Parental Communication: During the pandemic, parents didn't lose access to teachers thanks to Google Meet. Coming out of the pandemic, Meet still presents a quick and easy way to set up a parent-teacher conference or schedule a convenient call with a parent.
In addition, during parental meetings, teachers can drill down to exactly where the student is struggling due to features within Google Docs, Forms and Sheets. With everything in one place, parents can review their child's progress, homework assignments and upcoming projects. Also, for younger students, teachers can use the Google platform to create a digital notebook with links to information and videos nicely condensed and organized for them.
10. Grouping Students: Once teachers conduct formative assessments and analyze the statistics, teachers can pin down exactly where to group students according to comprehension. Through Google Sheets, teachers can determine whether a student needs to be accelerated or relearn skills.
"The analysis we utilize through Google allows us to help with intervention and student remediation," Dillard said. "We all know about bringing a child struggling up through remediation, but more importantly, we don't let the top students slow down. Technology has made it so that's not the case anymore and keep them on their pathway up."
To move your district to Google Workspace for Education for free, head to Bluum's partner webpage with Google now!