Bluum Expert Shares Technology Planning Model with Educators in New York
Every year, school districts are faced with the challenges of acquiring new technologies, planning for deployments, training staff and acclimating students to the changes. It's a daunting task for school and district leaders who strive to provide enhanced pedagogical value with their technology investments while modeling best practices for engaging their students with new digital learning tools.
Being a former educator myself, I know all too well how time-consuming these tasks are, and when they are done without collaboration, the results are less than optimal. To make technology planning less of an ordeal for educators, our company, Bluum, has developed a model for using new education technology (EdTech) based on a multi-stakeholder approach to empower districts of any size to understand and overcome their technology challenges and optimize their resources and investments, yielding powerful learning outcomes.
Inspiring collaboration through community
By involving stakeholders at all levels of the learning community through dialogic leadership, all voices contribute to a living design that supports the chosen EdTech changes. This open, collaborative approach moves the community through a technology planning and adoption process that values multiple perspectives and innovative teaching practices.


I presented the Bluum spiral model at the Annual Conference of the New York State Association for Computers & Technologies in Education (NYSCATE) last November to test its value with a live audience. I had the honor of facilitating two conference sessions on developing organizational capacity in technology planning, which is one of my personal passions, as well as one of my professional skills.
To my surprise, the sessions were standing room only, which told me the topic of technology planning deeply resonated with many event attendees. I shared how implementing a spiral model for technological change can engage school-district stakeholders in dialogue that examines a district's digital ecosystem, while keeping the planning focus on improving student learning outcomes.
Each step in the technology-planning process strategically uses dialogue to build a systematic approach from a loose core of facts and interested stakeholders. As the group goes through each phase of the model for change, a living design emerges in which the technology planning gets done as part of the stakeholders' daily routines. Organic integration without too much extra work was a welcome topic among the busy educators at the Annual NYSCATE Conference.
Preparing your community to build a living model
Any time you're starting with a small and committed stakeholder group, the success of a new education initiative depends on the capacity of its leaders and those who are implementing the plan. When it comes to researching needs, purchasing hardware or software, and deploying a technology plan, both teachers and administrators must lead the way, marking the path for others to follow. Everyone has a role to play in digital transformations and technology overhauls.
Using a carefully crafted strategic dialogue, the stakeholders engage in a process of discovery to identify what's driving the school or district to seek change in its technology, the potential to which the members aspire to invoke change, and how to create goals with actionable steps. In the discovery process, the stakeholders identify a common belief system, customs, community values, and a shared understanding of their learning community and its unique technology needs.
Actions you can take: Who would you invite to be part of this technology planning process from your education organization? Can you identify what is driving you to seek change?
As you lead this initial team on a strategic journey, you will identify and form a common vocabulary that resonates with all the stakeholders in the system. You will discover current practices, design custom solutions, and give everyone a voice as active participants in the planning process.
For advising education organizations that are seeking change, I borrowed a quote from a tweet by Mike Sylofski, former NYSCATE president. When beginning discussions with stakeholders, consider the following: "Instruction always starts the conversation & should always end the conversation" in any technology planning dialogue. @AStrategicShift #NYSCATE21" – Mike Sylofski, former NYSCATE President on Twitter
Questions for reflection: What are your goals for your district's digital ecosystem and its impacts on learning? Vocabulary matters, so what language clearly communicates this goal? Is there consistent vocabulary you are using to communicate this goal? What is it? Do you hear others using these words?
Once you have identified your common goal, you are ready to engage in the inquiry process and act to implement key initiatives to move the system forward. Take time to reflect along the way to identify the results of the initiatives.
Actions you can take: Name what you are accomplishing. For instance, it is not enough to say the students are using Chromebooks. What are they really doing on the Chromebooks? Are they engaging in collaborative writing projects using Google Docs? Are they responding to formative assessments on Pear Deck? Are the students researching the impacts of climate change in their region of the world? Are they using Google Meet to communicate with students in classrooms around the world?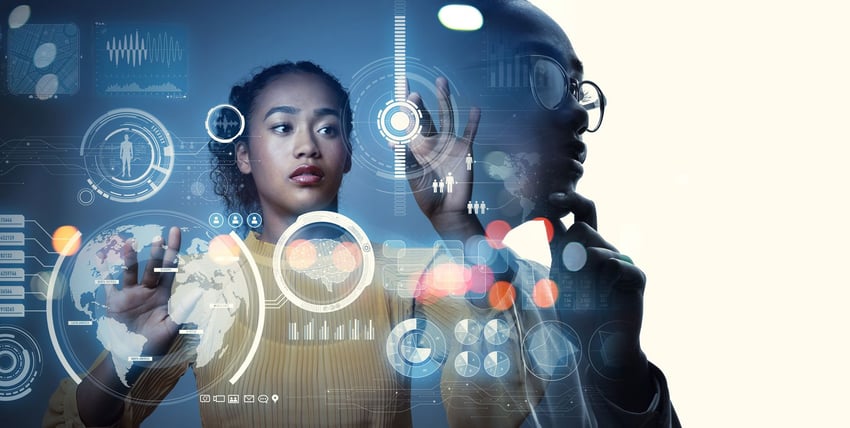 Throughout my NYSCATE sessions, the participants learned action steps they could use immediately to improve their ability to engage a team of stakeholders in strategic thinking and collaboration. I facilitated conversations with the participants to help them begin to form the foundational conversations needed to lead strategic collaborations and build enhanced capacity for technology planning alignment.
Watching them discuss with one another, I was reminded of another tweet by NYSCATE's former president that sums up the focus of my sessions, the overall importance of good technology planning to create powerful student learning outcomes. "This visual from @AStrategicShift reflects my biggest takeaway from #NYSCATE21 - the need for educators to be completely & consistently intentional in language, actions, & directions to successfully support tech initiatives." – Mike Sylofski on Twitter