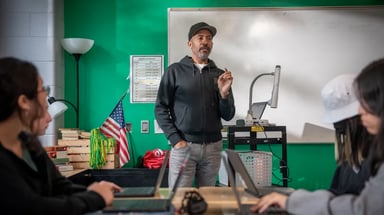 For the past few years, the term "unprecedented" became the most overused (and accurate) word to describe the experiences many of us were having. From how we connected with friends, to how we celebrated holidays, to how we did our jobs.  
In 2020, I found myself home with a brand-new baby, a toddler, and my oldest child entering Kindergarten. I also worked full time, so I saw the impact of this "unprecedented" learning experience firsthand. My kindergartener (pictured) and I shared my office for his first months of elementary school.  
One positive outcome of this "unprecedented" time was that we saw the topic of student access to learning become a national priority. In 2020, Congress set aside approximately $13.2 billion Elementary and Secondary School Emergency Relief Fund (ESSER III) funding provided districts the ability to enhance technology infrastructure, implement new tools, and provide significant professional development for teachers to support integration of modern technologies. Through successive stimulus bills, a total of $190.5 billion was allocated to ESSER III.
Now as ESSER III funding winds down, the important challenge of planning for sustainability and maintaining student access to the Internet, appropriate devices, and inclusive pedagogy, becomes a renewed area of focus. 
To do so requires careful planning, creative resource allocation, and advocating for ongoing support to ensure that our students continue to benefit from the transformative power of educational technology. Although there may be a tinge of uncertainty, tried and true best practices continue to be the way we can plan for a sustainable and improved path forward.  
Here are our top four considerations for planning for EdTech, beyond ESSER III: 
Understand your specific funding landscape
What ESSER III funds do you have remaining? Have they been earmarked? What are your specific deadlines to access those funds? 
Is there additional Local/Regional funding available for your key initiatives? 
Are there projects that might qualify for private competitive grants? 


EdTech Self-Assessment
What technology is currently available in your schools? 
What is your technology debt and what is the timeline to refresh devices and other instructional technologies? 
How are tools being used? 
Are there tools that are not being used, and how do you know? 
What are common challenges for end users? 
What metrics are you using to assess the effectiveness of the instructional technologies? 


Define Priorities 
Based on the district's budget and current needs, what are the key priorities that would make the biggest impact? 
Which stakeholders should be involved in defining these priorities? 


Learn from Trustworthy Thought Partners
Collaborate with other district leaders you trust to hear what challenges they've faced and how they've overcome them 
Engage the district's pedagogical innovators as members of the technology leadership team to identify best practices and build a blueprint for all educators. 
Identify solution providers with years of experience in the education industry to learn from their expertise and tricks of the trade.