Distance learning has taken center stage over the past two years. The shift in how and where learning takes place has fueled the popularity of affordable, durable laptop computers for learners and teachers at home and in the classroom, a trend that shows no signs of abating in a post-pandemic world. Many schools are turning to devices that are easy to integrate into hybrid environments, which is likely why Chromebooks are the best-selling computing device in K-12 education worldwide.
Why Chromebooks Are Trusted by Educators
While Chromebook sales have slowed in 2022, over 29 million devices are expected to ship this year alone, nearly double the amount procured in 2019.[1]
Though their inexpensive price tag makes them an enticing option for schools on a budget, there are other reasons to invest in Chromebooks:
Ease of use

— Chrome OS is easy to navigate, even for young learners.

Built-in security

— Chromebooks are one of the most secure hardware device options for protecting against viruses and other malware, thanks to software security features such as automatic updates, sandboxing and data encryption.[2]

Powered by Google

— Google is a trusted name in technology and offers industry-leading software tools for collaboration, communication and creativity through Google Workspace for Education.

Shareable interface

— An accidental spill or a Chromebook left at home is no longer a problem. Students can switch between devices seamlessly because their digital schoolwork is securely stored on the cloud.
How to Choose the Right Chromebook for Your Students, Faculty, Staff and School
You may have seen some devices branded as Chromebooks for Education and wondered what that means.
Any Chromebook can be used in schools and offer access to Google educational tools. Education-focused Chromebooks are built for durability and performance, including:
military-grade design features to handle bumps and drops

battery life to last a full school day

microbe-resistant screens to prevent the spread of germs
These features can add to the cost, so budget-conscious schools may want to stick with the more basic models, which can still handle the daily wear and tear of the classroom and homework.
With so many Chromebook options available, finding the right one for your students and staff can be overwhelming. Bluum's Google Wayfinding Guide is a powerful resource for your decision-making process, guiding you through four steps:


Identify your primary use case (how the devices will be used).

Map out the device specifications required for your use case.

Make recommendations for devices that meet these needs.

Compare across the device ecosystem and narrow down options to the right device.
Device Use Cases
Each school is unique in how it plans to use Chromebooks for learning and teaching. Consider the following scenarios:
Basic Classroom Use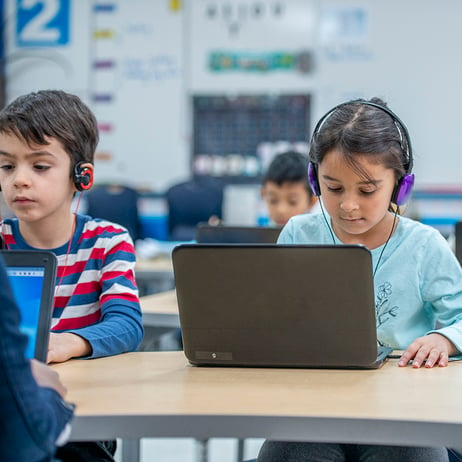 Students can share devices and use them primarily for web browsing, email, assignments completed through Google Workspace, and testing.
Learning Anywhere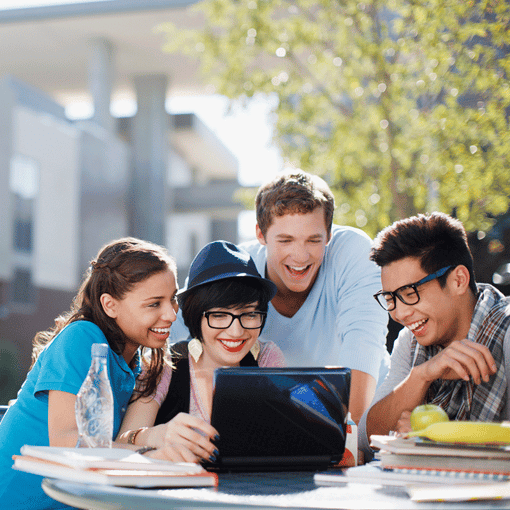 Devices can travel to and from the classroom and home, supporting multiple browser tabs, Google Workspace, and videoconferencing with 100+ participants.
Advanced Use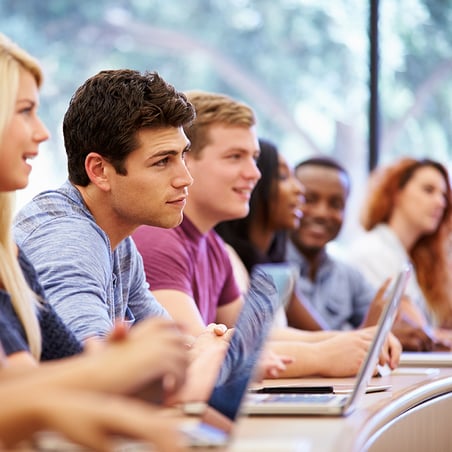 Recommended for students, faculty, and staff in high schools and higher education institutions. Devices feature support for content creation and editing, coding, running apps in virtual environments and heavy multitasking.
Additional Considerations
Aside from how students and teachers will use their new Chromebooks, other factors can guide you in selecting the right device:
Auto-update expiration (AUE):

Every Chrome device receives regular updates from Google until it reaches its AUE date, after which existing and future features may not work as intended and technical support will no longer be provided.[3]

Zero-touch enrollment:

Some Chromebooks are compatible with this premium service, which automatically enrolls each device into your school's network once turned on and connected to the internet.

Connected devices:

Select Chromebooks are equipped with WiFi6, LTE or 5G. Data plans can be purchased separately.

Supported peripherals:

The

Works With Chromebook

certification denotes accessories that have been tested and proven to meet Chromebook compatibility standards.
Sources
[1] https://www.statista.com/statistics/749890/worldwide-chromebook-unit-shipments/
[2] https://www.security.org/antivirus/chromebooks/