Education is not usually what comes to mind when you think of cutting-edge technology. Even today, most schools rely on pretty basic systems to teach core subjects such as reading, writing and arithmetic. Over the years as computing has become ubiquitous in our new Digital Age, most districts and schools have added computers and tablets to the mix, including dedicated computer labs, which are impactful—but unfortunately, they do not always succeed in creating an environment that empowers more creativity and collaboration. Computer labs alone fall short of providing the kind of engagement, collaboration and creativity that digital learning should enable.
Viewed as a sector, K-12 education is on a journey to a new era of computer-powered pedagogy, which must be scaled up to keep up. However, it has a long way to go in fully realizing the potential of digitally powered teaching and learning. Across North America, most educators are still not very well prepared for this, as the struggles of many students and teachers with adapting to digital learning during the pandemic demonstrated.
It's up to schools at all levels to prepare their students for success in modern industries. For students to thrive in whatever they do beyond graduation, schools must succeed in digital-age teaching and learning.
Falling Behind Technologically

Limits Student Potential in the Digital Age
The results of teachers and students falling behind technologically at school can cascade through families and communities when K-12 graduates find themselves at a disadvantage entering higher education institutions or securing gainful employment with organizations that are advanced in their digital transformation. Career prospects for high school graduates are limited without digital fluency and a base level of tech savvy. As technology evolves at an accelerating pace, the gap in social mobility is widening between those learners who have access to digital technology and those who do not have access.
Of course, our information economy still has many trades where a high technical aptitude is not required, but lacking digital skills and knowledge gives graduates fewer job options, especially with the advent of technology like automation, machine learning and artificial intelligence. These emerging technologies have already begun replacing low-skilled labor—a robotic arm that flips burgers perfectly every time, for example. High school graduates can pursue a professional trade and gain advanced skills on the job, but competition for such jobs that offer paid training is becoming stiffer and the opportunities are never open to everyone.
It's up to schools at all levels to prepare their students for success in modern industries. For students to thrive in whatever they do beyond graduation, schools must succeed in digital-age teaching and learning.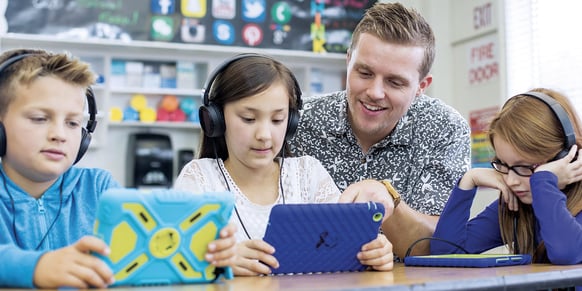 Meanwhile, high-tech organizations that pay well tend to require new hires to have proficiency using the tools of the global information economy in addition to mastery of the subjects they studied in school. It's up to schools at all levels to prepare their graduates for success in modern industries. For many schools and families, successful K-12 learning outcomes are measured by getting their students ready for a successful post-secondary education, including community colleges and trade schools. For students to be prepared to thrive today in whatever they do beyond K-12, schools must succeed in digital-age teaching and learning.
Perhaps one good thing about the pandemic is that this problem of digital transformation happening too slowly or not at all in K-12 schools has come into very sharp focus, and it's finally getting the attention it deserves.
A Paradigm Shift: The Rise of 1:1 Computer Learning and Interactive Digital Teaching
When COVID-19 started spreading across North America in the spring of 2020, most K-12 districts and schools were ill-equipped for remote learning via online computers. When the pandemic forced schools and students online, many struggled to make the transition. Most educators didn't have the right hardware or know the right software. As difficult as that forced remote-learning period was, most institutions emerged with a clear sense of the importance of digital teaching and learning tools in 21st-century education, in the classroom and beyond for homework and individual study.
Well-planned education technology (EdTech) implementation is already proving to be a boon for closing the homework gap between kids whose families can afford to buy them computers with internet access and those students whose families cannot afford online computers at home. With federal funding temporarily available to all schools, EdTech is helping to level the academic playing field between the haves and the have-nots. Holistic EdTech solutions are also empowering trailblazing teachers to address pandemic learning loss with newly designed tools and platforms that leverage the power of computerized audiovisual technology, especially in classrooms where devices like interactive flat-panel displays (IFPDs or IFPs) with touchscreen interfaces and screen sharing can boost student engagement at school.
In the spring of 2022, schools with a one-to-one student to computer ratio are now common, earning them the moniker of "1:1 school." This change is so massive, it constitutes a paradigm shift in K-12 education, made possible by an unprecedented windfall of pandemic-driven federal education funding as well as the skill and dedication of educators who quickly learned and adopted new teaching tools and methodologies to keep their students on track academically.
Even in a world where most of us have smartphones and other mobile computing devices in our hands, living big chunks of our lives in digital spaces, K-12 education was mostly left behind until the pandemic forced sudden technological advancement. The global economy has changed across sectors, with digital commerce becoming the norm, but as the paradigm shift gradually manifests, the education sector has fallen behind. Too many educators find themselves playing catch-up with long-awaited funding finally flowing in. With this influx of taxpayer money for technology that facilitates learning, many schools are just beginning their digital transformations, still relying on chalkboards and paper textbooks to get their jobs done.
Perhaps one good thing about the pandemic is that this problem of digital transformation happening too slowly or not at all in K-12 schools has come into very sharp focus, and it's finally getting the attention it deserves.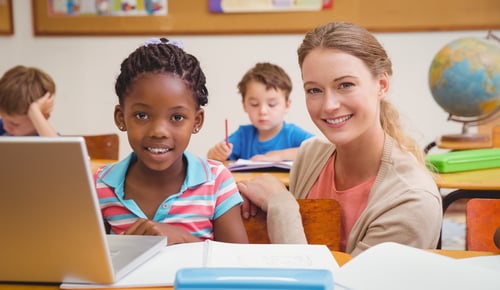 If you're still trying to find your way in developing a district-wide or school strategic plan, partnering with the right expert can empower you with a proven approach to finding the right solutions for connectivity, computer-powered instruction and collaboration. The right tech-planning advisor can also save you money by maximizing the value of your technology purchases throughout the product lifecycles.
Education at all levels is changing relatively fast, and the team here at Bluum believes technology is going to play a bigger role from here on out, from pre-K to lifelong learning options for retirees. Here's what you need to know about EdTech planning, and how it can empower you while maximizing the benefits of your technology investments for greater returns.
What Is EdTech Planning for the Digital Age?
As K-12 classrooms, schools, and districts undergo digital transformation, and all levels of government allocate more funds for internet connectivity, classroom technology, and computing devices for students and teachers, it can be hard to figure out how best to spend the money you've been allocated.
EdTech is a very broad term that encompasses a variety of classroom and mobile audiovisual (AV), computers, devices, software and accessories. The term is used in reference to digital teaching and learning tools in particular. Strictly speaking, a chalkboard is a form of education technology. It's just sorely outdated. To leverage the pedagogical power of today's digital EdTech that connects students to the totality of human knowledge through the internet, districts, schools, school boards, superintendents and principals need to work with their information technology (IT) and AV professionals to develop a district or school technology plan that maximizes their return on investment (ROI) and proves the most benefits for students and teachers.
Educators accountable for making EdTech purchasing decisions also need to invest in technology that will be compatible and lasting as new pieces of the puzzle are added. Compatibility and durability ensure the end-users, the students and teachers, get extended use out of the audiovisual and computing equipment purchased while the technology planning team continues pursuing big-picture, long-term goals that are measurable.
Every piece of the strategic planning process is an important decision for schools because the puzzle needs to come together by multiple hands for the best results. What kind of results? Improved learning outcomes—better attendance, test scores, and graduation rates.
Empower
ing
Educators to
Bring Classrooms to Life Via Optimal Tech Planning
Many educators and school boards are not quite sure where to start on this high-stakes endeavor, and many just beginning cannot describe what success looks like when the job is done. This level of planning complexity and the sophisticated nature of high-tech teaching and learning tools demands expertise, which is why Bluum a pioneer in creating a new advisory service dedicated to strategic planning and consulting and based in experience and education research. The education professionals behind Bluum's holistic planning programs, like Andrea Tejedor, Ed.D., have extensive education experience (in this case, a doctorate and a master's degree) and also know the benefits of incorporating technology into teaching from the inside out.
The team behind Bluum's strategic planning advisory service have this special combination of education knowledge and experience combined with detailed technical and product familiarity and training. Their diverse academic and technological backgrounds and current focus on maximizing the benefits of technology for learning and teaching allow our experts to consistently deliver the best of both worlds when you talk to them about your technology goals, current state of play, and resources available to get where you want to be.
This potent combination of experience and skill makes planning and consulting services like Bluum's uniquely able to help schools make the best choices for now and for the future. If your institution needs an actionable technology plan for 21st-century education, it pays to have expert guidance.
What Kind of EdTech Planning Help Can You Get?
Every school is in a different situation when it comes to their existing EdTech ecosystem and the needs of their students and faculty. This spectrum means a one-size-fits-all approach to tech planning will not succeed. Bluum's first step in tailored strategic planning consultation is to systematically assess where you are right now as a district or school. Establishing your starting point allows construction of a solid foundation for building a robust tech plan. For example, some of the classroom AV equipment you already have might still be usable for several more years, and when looking at the big picture with a seasoned EdTech planning guide, you may decide it makes more sense to first allocate funds to areas where you fall short.
Strategic planning services also take your budget into account, including how the cost of the planning service itself fits in and saves you money in the long haul. Even though there's a lot more money for digital transformation in education right now, it's still not an endless stream—or even enough to do everything you'd like to do. So, a key function of your planning team is to make sure that you spend the money you already have in the most impactful ways.
Many schools have plans for a phased approach already, and if you know what you want to do first, second, third and so on, planning experts take that into account too when helping you flesh out and execute your vision for technology-enhanced education.
Finally, not all schools use the same teaching and learning styles and practices. Some schools are more traditional, looking for enhancement rather than transformation, while others have a more modern approach geared toward innovation and reimagining education. Bluum applies your institution's education philosophy to your tech planning, and the mindset of your purchasing decision-makers will certainly influence the types of systems and tools best suited to your education technology plan. Even if you know what hardware and software you want, an expert EdTech advisor can help you decide exactly what to buy, and what not to buy, securing the best prices, then guiding you in how best to implement it in your unique learning environments throughout the product lifecycle.
Roles and Responsibilities In EdTech Spending
Every success that happens in any school is always the work of many different people. There are different teams, committees and people involved in every knowledge-transfer process. Each individual contributor is different, but there are several roles and responsibilities that we commonly find in a successful EdTech planning process, such as:
Teachers

, who have hands-on knowledge of what their classes need most in the way of classroom AV and other learning technology

Parents and students

, who often join educators in working to raise money to offset budget shortfalls or pay for specific technology that is not covered by the funds they have been allocated

District superintendents and school principals

, who sometimes apply for funding or approve funding applications and often approve or reject proposed technology purchases

Technology Directors (IT and AV)

who collect information from their faculty and create a technology wish list and often develop a robust technology plan for their district or school

EdTech experts

, who work with tech directors, principals, superintendents and in larger districts, school staff such as instructional technology specialists, on long-term technology plans for schools and districts

Schoolboards and district boards

, which are often ultimately responsible for collectively reviewing and approving technology plans and in accordance with budget restrictions (as elected bodies that vote on hiring and replacing superintendents, board members also wield indirect influence on large technology purchases)

Tech

nology

manufacturers

, who design, develop and sell

innovative hardware and software built for schools at every education level, from pre-K to doctoral programs
Every piece of the strategic planning process is an important decision for schools, because the puzzle needs to come together by multiple hands for best results. What kind of results? Improved learning outcomes—better attendance, test scores, and graduation rates—and every person involved in developing or executing the technology plan has a key role in ensuring that schools get the results they need.
Planning for the Future
It's taken a long time and a lot of teachers leaving the profession during and after a historic pandemic to get a spotlight on EdTech spending and the need for modern technology in schools—but now that there is a light shining on this critical need that must be addressed by societies and civilization as a whole, we hope prioritizing funding for education in general and EdTech in particular won't fall by the wayside again. Knowing how political the debates over education funding can be, it's practical to plan for worst-case scenarios.
Putting hopes for future funding aside, educators should now be focused on long-term planning, and on building up their technology ecosystems in stages and phases.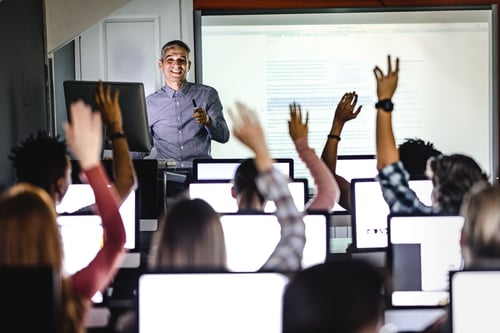 Many schools and districts are already using the powerful services of EdTech experts to develop a school technology plan that focuses on the core requirements in the short term but allows for expansion and growth over time. By investing in quality EdTech and classroom technology now, including training for teachers on how to use it and maximize value, schools can get longer lifespans from that equipment. That way, when they're ready to spend again, they can add new, compatible technology on top of what they already have. A competently layered tech stack allows for older components to be phased out with no disruption to the overall function of the network of devices serving a school or district's needs.
A strategic planning service like we offer at Bluum can ensure that you build your classroom technology architecture in a way that makes sense and allows for long-term growth and scaling up.
Even if you can't afford to do everything you would like to right now (and most schools can't), having a long-term plan in place helps you focus on where you're headed, and gives you the information you need to plan for the future.
What Are the EdTech Essentials?
When you first start working on technology planning for your school, the sheer number of options you are faced with can be overwhelming. There are computers, software, display and presenting tools, recording and AV tools, STEM and interactive tools, and much more. However, while you will need to narrow your search down to the things your school really needs, there are some universal must-haves, which are:
Ease of use

– EdTech systems should be easy to master. Not every teacher is a technology whiz, and if it's not easy to use, it won't get the use its price justifies or its capability deserves.

Durable and built to last

– The equipment you put in a classroom or a kid's backpack is going to take a lot more use and abuse than the stuff you use at home, so your EdTech equipment needs to be built to be more durable than typical consumer hardware.

Compatible

– Many schools use different kinds of software and tools, and the EdTech you choose should be compatible with whatever you're already using.

Value for money

– EdTech is a very specialized type of technology, and there's a lot that goes into making it, and making it last. However, while EdTech is usually not cheap, it should offer value for money spent in terms of the length of service and longevity you can expect, how useful and effective it is, and other factors like intangible impacts on student engagement, getting kids more excited about learning, for example.
EdTech spending is never a quick process. Nor should it be. All the numbers should be double checked, and every dollar accounted for to make sure you get what you need at maximum value.
Make sure you keep these EdTech Essentials at the top of your mind when you're evaluating your options and remember that you should always put long-term ROI at the top of your EdTech priority list.
How Can Bluum's Expert Planning Advisors Help?
Many educators and school administrators these days are highly tech savvy people—but there are also some who are not. Even those who know a lot about personal technology might not know where to start sourcing and designing for EdTech planning—and that's perfectly normal. It's a rapidly evolving industry, after all.
We feel that you shouldn't have to try to make sense of this brave new world on your own, which is why we've formed an education technology planning service team.
If you need help with any part of the process from planning to getting quotes, making a business case to your school board or anything else, we're here to help you succeed. We're even there for you after the sale goes through, to keep you connected and supported, from professional development training to repair and maintenance specialists.
Education is one of the most important things we can give children. It's how we change the world, and the better the tools our kids have to learn and grow, the better off we will all be.
That's why Bluum is committed to giving educators and students what they need to succeed and excel. If you're struggling with EdTech planning or haven't started to climb that mountain, don't go it alone and don't struggle at all. Reach out and let us guide you in making the best decisions for your students, teachers and communities.
Here's one big question all technology planners and teams should ask themselves: How well is your current technology ecosystem meeting your organization's current and future needs as digital transformation accelerates in K-12 education?
Connect with a Bluum Expert.
You can do more than just keep up. Set the pace with Bluum as your expert EdTech planning guide.