While remote learning wasn't nearly as widespread as recently as three to four years ago, Google Chromebooks were already the most popular choice1 among academic institutions across the United States. Google's Chromebook is well-suited to the evolving needs of students and educators engaging in remote and in-person education.
1. Chromebooks Enable Remote Learning
Since the COVID-19 pandemic, much of the world has moved to learning remotely, at least to some degree. This has created a huge demand for digital-ready instruction methods, and Google's Chromebook leads the way in facilitating remote learning.
One the most critical features for educators providing distance learning is the ability to record your screen. This way, teachers can prepare lessons and assignments in advance. Google Chromebooks for education have a native screen recording feature built in, making it simple to prepare and record lessons well ahead of time.
Of course, Google Chromebooks integrate directly with Google Workspace for Education and Google Classroom, making full use of features and EdTech tools like rosters, grade entry, classroom activity logs, and more.
2. They're Highly Secure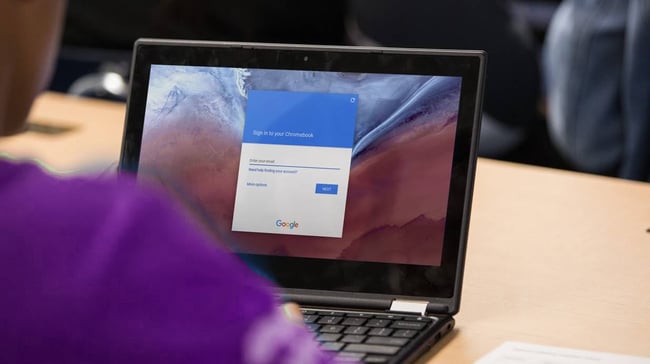 As technology and internet connectivity progresses, so too does cybercrime. Almost half of all academic institutions2 across the globe were targeted by ransomware attacks at the beginning of the pandemic. In most cases, phishing attacks are still the main culprit, with phishing remaining the single biggest avenue of attack for cybercriminals. Even with remote learning policies in place, institutions can still face a risk – and perhaps an even greater one. Students working remotely are typically monitored less closely, and it only takes a single attack for a student to unwillingly share their credentials with a hacker, awarding them full access to an institution's infrastructure or student information.
Of course, this is a risk with any device, and with the correct software and policies in place, the risk can be managed. But some of the most difficult to manage risks involve a human element. For your students' devices to remain secure, security patches need to be installed. Well, Google Chromebooks automatically apply vulnerability patches without any need for human intervention.
Security patches aside, there are other useful tools that make Google Chromebooks for education the ideal device. While patching is automated, a central IT team can retain hands-on control via a Google Admin console that integrates with each computer and provides full access control to hundreds of security and user settings.
Storage is handled natively, using Google's cloud storage services (Google Drive), meaning that student information is properly secured and backed up in the event of catastrophe. This also removes the need for reliance on physical storage mediums, such as USB sticks, which are an additional security risk.
Other useful security tools include sandboxing, which isolates each device within its own environment, minimizing risk to the wider network, and Verified Boot, which runs system integrity checks on each start-up.
3. Google Chromebooks Support Varied Student Needs
Google Chromebooks are designed with diverse needs, providing a myriad of accessibility tools by default. Some are inherent to the device, while others can be accessed quickly and easily via apps or Chrome extensions, including:
Built-in screen reader and braille device support for students with severe eyesight loss and other visual impairments;
High-contrast screen support, in addition to magnification and other tools;
Caption styles and font sizes, in addition to mono audio and spoken feedback for students who have difficulty hearing, dyslexia, or visual impairment;
Custom keyboard configurations and other shortcuts for users who have motor skill difficulties
4. They Drive Productivity and Efficiency
Google Chromebooks are known for being user-friendly, with boot times averaging around ten seconds and batteries that provide excellent life between charges. Compared to other, non-Google devices, they generally support much quicker access and run times.
What's more, Google Chromebooks can be used in offline mode, allowing students to continue working in the event of a network loss. The same setting is shared with Google's suite of office products, so no student will be impacted by temporary loss of access to the internet. Each learner can still create, view, and edit their Google Docs, Slides, or Sheets, or compose emails that will be send when the network is restored.
5. Chromebooks Integrate Seamlessly with Google's Ecosystem
It goes without saying that Google's Chromebook integrates natively with Google's full suite of applications and web services. Running on Chrome OS, each Chromebook can connect with the full list of Google office features, in addition to Google Calendar, Google Classroom, Google Workspace for Education, and more.
More than 150 million school students and staff already use Google Classroom to facilitate their learning, so investing in a device that fits seamlessly in alongside such applications is a natural choice for many administrators and school leaders.
Get Started
Having educators and students on Chromebooks creates a unified learning environment, enabling everyone in a school community to teach, learn, and collaborate equally. Learn more about how to get started.
Sources
Kajeet. 2019, January 22. Why Chromebooks Have Expanded in K-12 Classrooms [Article]

Benjamin Freed. July 23, 2021. 44% of education institutions targeted by ransomware in 2020, survey finds [Blog]